The Death card has been stalking me. Just when I think I've wrestled its lessons to the grave, Death resurrects itself in my personal readings like the undead killer of a 90s horror movie cliché. Avoiding the tarot is no use, either; while browsing a zine collection a few days ago, I selected a publication at random and opened the cover to find the author's illustrative rendering of the Death card from the Motherpeace Tarot. Had I not been in the quiet archive stacks surrounded by library patrons, I would have shouted to the Universe, "OKAY, I GET IT!" Though initially exasperated by Death's persistence, I know my relentless tarot stalker signals the presence of the Dark Goddess. With Her boney fingers, She is rapping on my door.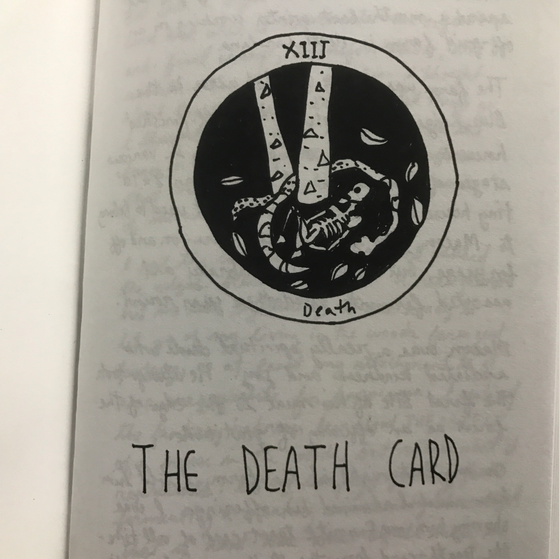 I suppose it should come as no surprise that the Dark Goddess is slingin' the Death card my way and otherwise hitting me upside the head with cosmic 2x4s. In the past few months I have hit several major milestones: I finally finished my PhD (and am, to my own amusement, technically a witch doctor!), landed a muggle job in my field of choice, got married and handfasted to my beloved spouse, uprooted from my home of six years, and moved across the country. On top of it all, we are entering the dark half the year here in the Northern hemisphere, where the shift in seasons beckons us to cozy up to our shadows. As I settle into this new chapter—which is glorious but nonetheless disorienting—I am struggling to recognize all these changes as my life. With so many endings and new beginnings, I am being called to sync up with the Wheel of the Year and plunge into the Dark Goddess's cauldron of transformation. It is time to mourn the demise of my life as it once was, grieve outmoded conceptualizations of myself, and lay to rest the ghosts of trauma that have haunted the bodymind I call home. 
The Dark Goddess is not just one thing. Like a smoky crystalcluster, She is profoundly multifaceted. Depending on your spiritual beliefs and personal practice, She may be a metaphor for the destructive and regenerative aspects of nature or perhaps a real Divine being. You may know Her as Baba Yaga, the Morrigan, Hecate, Kali, Santa Muerte, Cerridwen, or countless other names. Her titular status as "dark" is complex and deserving of critical attention as well. What makes Her "dark" is pretty subjective. Moreover, I would be remiss to leave unacknowledged how some definitions of "dark" conjure up the archaic good/evil binary and are even amenable to racist logicsthat associate darkness with wickedness, immorality, and dangerous. The vexed dark/light dichotomy continues to animate tensions in spiritual/personal development/magickal/New Age communities as we debate the meaning of lingo like "shadow work," "light worker," and "love and light."  In this context, the Dark Goddess might inspire resistant trepidation or anticipatory, reverent awe. More than likely, it is some potent combination of the two.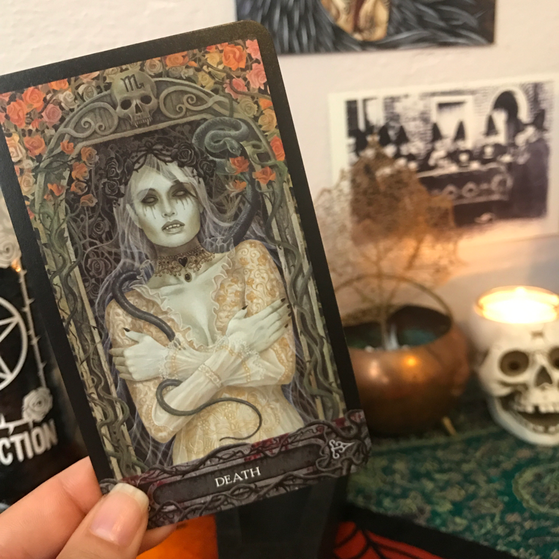 It is not up to me to decide what "dark" means to you, nor is it my place to insist you enter into a working relationship with the Dark Goddess. I can only say that my own spiraling path with and to the Divine Feminine's more fearsome and feral aspects has been an unfathomably intense healing journey. Healing is gnarly work, and the Dark Goddess makes no apologies for that. She sniffs out the stench of decay. Sucks out the poison of personal and ancestral trauma with her gummy mouth. Irrigates the wounds in your heart with Her primordial waters. She is righteous rage, healthy boundaries, and a swift kick of personal accountability. In a world where systemic inequality and abusivepower dynamics are the norm rather than a deviation from it, the Dark Goddess demands recognition of the uncomfortable factthat sometimes we are unfairly victimized, despite cultural narratives that insist we reject "victim mindset" at all cost. While She holds space for our deepest pain, She will also tell us with the sternness of a wild grandmother to get our shit together.
Or that is at least how it has played out for me. As the Dark Goddess stirs me into Her cauldron of death and rebirth once again, I cannot say for certain what exactly the dizzying and transformative experience will be like this time around. When I shuffle my tarot deck and Death pops out for what feels like the millionth time, I am reminded that a million possible futures await me. I am afraid. But I am also reverent and full of anticipation. I hear Her knocking on my cosmic door again, tenacious as She is wise. Do you hear Her, too? If so, what is your choice: will you ignore the call or open the door and let Her mysteries in?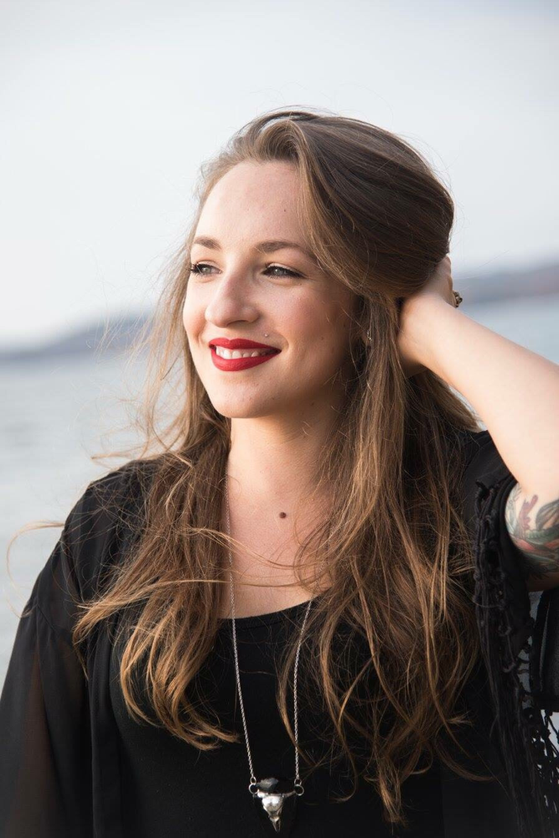 Bio:
Krystal, the queer femme witch of Power Femme Tarot, believes the spiritual is political. She is a passionate and intuitive tarot reader who specializes in readings focused on spiritual development, sacred sexuality, social justice, and confronting personal and collective trauma.
Krystal also crafts Pagan prayer beads and devotional jewelry.
To book a reading with Krystal and shop sacred tools, visit Power Femme Tarot.
Be in touch via email powerfemmetarot@gmail.com and follow Krystal on Instagram @powerfemmetarot.