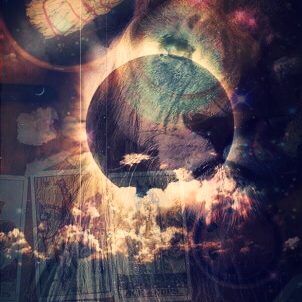 "The Leo Solar Eclipse on August 21st is going to offer all of us the opportunity to reset our mind, bodies and souls.
As the Sun, Moon and Earth all align for the Eclipse, it will be like the hands of a cosmic clock coming together to chime as one, signifying the starting of a new cycle.
While this Solar Eclipse may bring changes and new opportunities into your life, the most potent and profound effects are going to be felt on an internal level.
With this cosmic reset, a doorway to a new level of consciousness is going to open.
A new frequency will be available to all of us on Earth and this will help all beings on the planet to rise up together and feel a sense of unity, oneness and wholeness."
Sign for me to make a Solar Eclipse Reading, which was shared by the wonderful Danielle on her Instagram account (follow her here <3).
There was no other info accompanied by the photo. And so I took my own advantage of it.
(I should mention that, if you know the author of the spread, please let me know. Its a wonderful accurate spread and I would love to honor the initiator.)
In the middle of each column you will find the aspect which rules the highlighted aspect:
The Sun - which indicates Change or Evolution
The Moon - which indicates Fear and Darkness
The World - Reality and Illusion
Of course these aspects are parts of the chosen card.
In my spread I used the Motherpeace Tarot to indicates the aspect.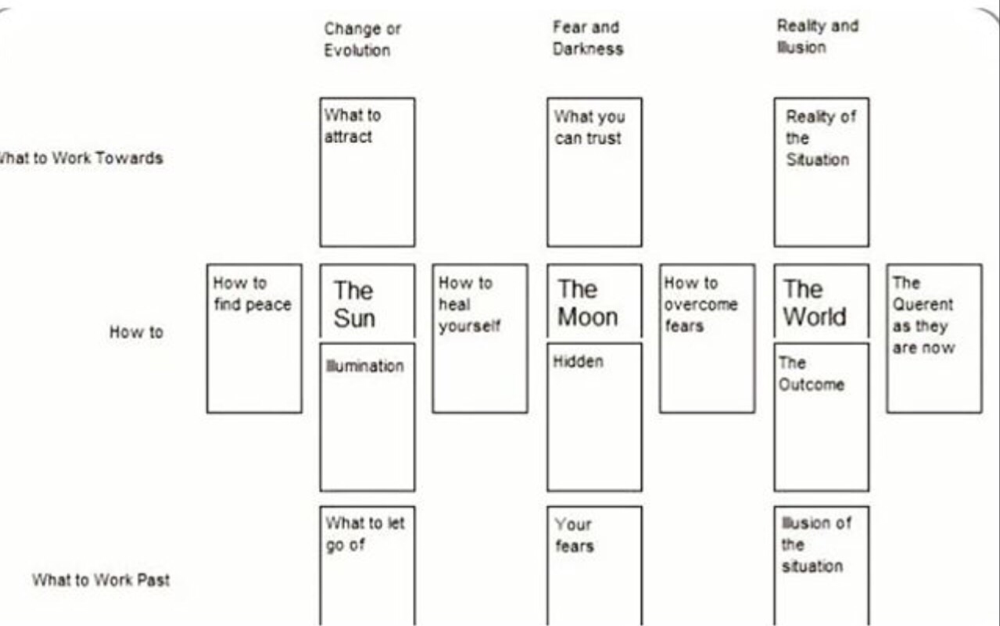 In the first row you find the cards you work towards to.
What I attract
The Three of wands
The first that came into my mind was the question 'What is your golden river you look at?`
It is a sign that I generate my energy and creativity within myself. I envision my successful golden business (in general) as my achievable future. It's for sure something what matches my passion, my fire. And it's something I'm good at, because I looking down into the haven.
What I can trust?
Two cards come to the table: the Four of Swords and the Two of Wands
I am confident that my approach will resolve all demanding situations, because my desire to develop a creative skill. The Two of Wands shows me, that I have a wider understanding and that I already spiritual grow. These new insights are processed while I rest or meditate and I can trust that this new knowledge is soon applied.
The reality of the situation
The Five of Wands
And yes, that's totally true. I am in an inner turmoil. Sometimes it turns into an outer one too, but most of the time I have the struggle insight. But in fact it is a sorting out of attitudes, priorities and habits. I make space for my wider approach and self-expression and that sometimes feels like fighting against someone. Yet it's a necessary "fight", because without the "free" space there's hardly room for growth and a new self-realization.
In the second row you can see the How to...ideas. Interestingly these are all Major Cards!
Which already indicates, that these steps are major aka big ones. Through major steps I can reach the envisioned goal and solve outer (or inner?) challenges.
How to find peace
The Empress
She represents Venus and therefor pure love. Through unconditional love I find my peace. But that not necessary mean, that I accept everything around me. "I accept the responsibility of my feelings, and my strength can nourish and sustain." Caroline Smith, the creatrix from the Elemental Tarot, says. And yes, that is true: just in loving yourself unconditional you are able to find peace within you. And it will eventually radiates outwards, what makes everybody around you PEACE-ful. 
How to heal yourself
And that I love. The Sun besides the sunny illumination part of the reading. Isn't that beautiful?
I have to generate my fire power within myself. It's already indicated in the Three of Wands. But with the appearance of the Sun I have to fully understand that MUST integrate myself to be able to achieve success. To shine my light.
How to overcome fears
Strength - ah. A Leo-ruled card in the Leo solar eclipse reading.
Do I need to say more?
Not really, do I?!
Through gathering earth energy I can find my inner strength. Through taming my inner demons I can overcome my fears. To see clear what my fears truly are, an expression of uncertainty, I am able to pet the inner lion. I have the needed perseverance, because I know I am on my most fruitful path for my personal growth. And I know that my work I do internally as well as outwards will increase my intensity to gather my own strength.
The querent as they are now
The Lovers
I had to laugh as I saw this card.
I found the sentence Caroline Smith wrote "I am in an unresolved situation as a result of choices made in the past. I can choose either or ignore it or change it and take full responsibility for the consequences."
I choose. Out of love. Like the Empress.
And I take full responsibility <3
The Sun illuminates the Nine of Pentacles.
Oh yes.... It's my quintessential expression of my earth harmony. My richness, my abundance I still have. My wealth - and it is still room for growth. I am in peace. I am in harmony. Because I learned self-reflection I can see what I'm surrounded with. I have learned to tune in my natural cosmic flow and I can (and will) find my place in the universal structure of life. I will be confident and proud to reflect and shine the light and love I find within me and in nature.
The Moon hide the Knight of Wands.
Because he "moves toward" the Nine I see it as the hidden confident feeling to express my inner creativity, love and passion. May be I am still afraid of the (sun/spot)light...
I know I have a huge creative resource within me, but I am kind of anxious to make the impact I am able to have. I am kind of afraid of the lion, afraid of the fire within me, because I can't see the whole surrounding I'm standing in. You know; in moonlight some parts are in darkness. And to go INTO the dark places needs courage. And self-trust. And that's what the Knight also stands for.
The World shows the (possible) outcome
And here are two cards: The Magician (Mercury, which is actually retrograde and which I see it again as a sign, that with this reading I'm on the right path) and the King of Pentacles.
Through the ability to shape the four elements according my will, to have the opportunity to have access to all possibilities, I can be a great influencer and therefore generate economic as well as financially success. Not only for me, but also for the greater good in the world.
I can serve others through my abilities - I just need the Strength to choose.
The last row of the reading is the What to work past row.
What to let go of
Again, two cards: The World and The Emperor
In one of my free daily reading on my Instagram Account I mentioned that (as a Libra) I hate to misjudge a situation. And because I am (as a libran) ruled by Venus, I get confused when Love in all their beautiful facets came into play. More so when this love is your potentially hubby-to-be and father of your two kids. I have to accept that evaluation of this man was totally nonsense. I thought it was love. Yes. But now I have to have the courage to close this chapter. He isn't my Emperor. He isn't my King.
My fears
Five of Cups
Yes - of course.
I am afraid of being alone.
I am afraid of not finding my partner.
I am afraid of being a lifelong single.
But these are illogical fears. It's not true, what my low self-certainty is telling me.
I still need a bit of time to comfort myself in my protective black cloak. Healing needs time.
But I am on a fucking successful path and I can see two glasses full of whatever... one for me and one for my later significant other.
Illusion of the situation
That is a tricky card for me. The Eight of Cups.
Normally the Eight of Cups indicates deep self-knowing. Turning inward to find inner truth or spiritual enlightenment. It also indicates a passionate feeling about oneself. 
On the other hand the card can also indicate an approach to my spiritual path. And indeed, I found a very very personal likely path, which reflects me as a person as well as spiritual being very much. But still I am not sure if this path is the "right" one for me, because it's from oversea (which this card also can indicate).
So.... Where is the illusion here???
Did I found my path and do not need to search any longer?
Or do I fake to searching inside of me? Instead I'm looking outward for the solution???
Honestly - I don't know... I guess, the answer leans toward my path... But as a libran spiritual being I need to approach this answer a bit more....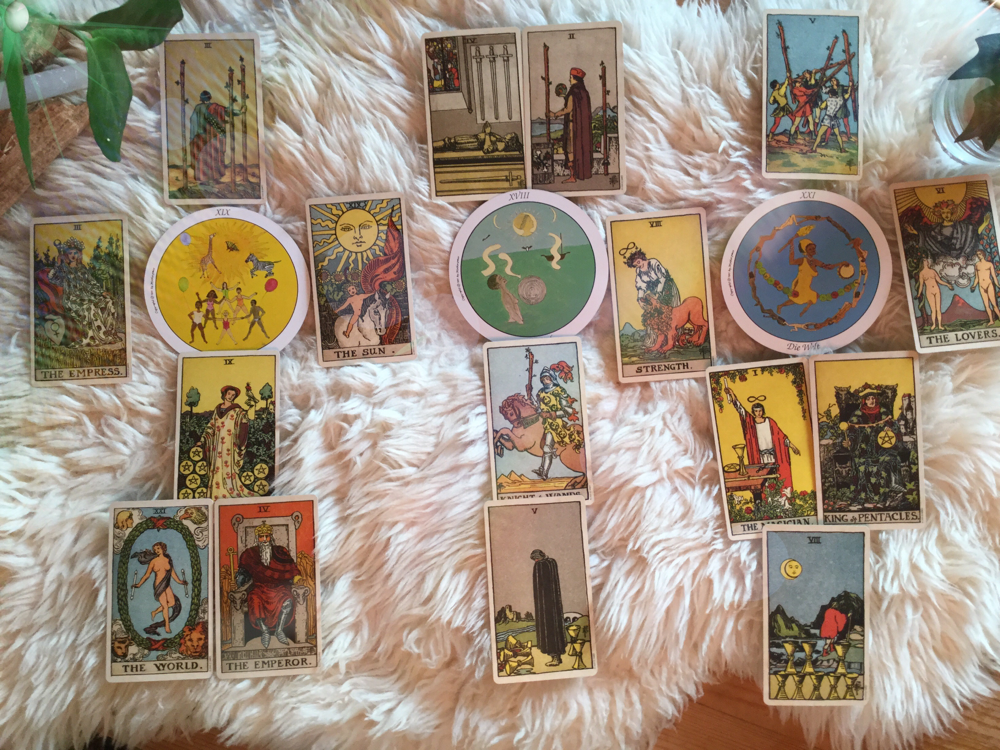 Guys...., I hope you liked this little intermezzo.
If you like, give this spread a try. It's worth it.
Still hesitate? Write me a PM.
We'll find an agreement and I will happily read the cards for you.
Meanwhile - enjoy the Solar Eclipse!
Much love, star seed, from my heart to yours.
 ** Text is from the guidebook by Caroline Smith and her Elemental Tarot
The excerpt above is from a website called foreverconscious and you'll find their article about the Leo Solar Eclipse here. They also offer a beautiful ritual!
You should try it.

The supportive Tarot Deck is the traditional Smith Waite Tarot, Centennial Edition by Pixie Smith and the round Motherpeace Tarot by Vicky Noble.