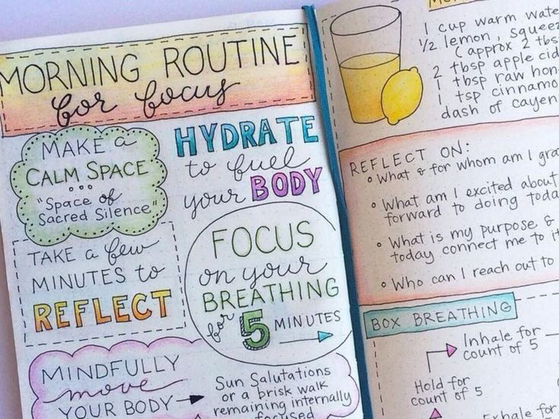 1. Make a commitment
To make a commitment is like making an appointment by the hairdresser – you hate to miss it.
Making a commitment makes you feel like this is a very important task to do.
You also should write this commitment in your daily planner or agenda. To see it everyday helps you in the beginning to stick with it.
As a spiritual person you actually live your life different and holistic. To carve out some "spiritual me" time is the next logical step. Am I right?
2. Do it daily
Yes.
Daily.
I don't care when you do it. It's being said, that its more effective when you do your spiritual practice in the morning. Which actually makes sense, because you start your day in the right mood.
But I know how stressful it can be sometimes.
And so - for me - it's important to do it anyway at any time during your day.
Training your new habit is like training your body – you need a bit time and effort.
Don't get overboard with a lot of the "woo-woo" stuff others may do. Thats nice, yes. And I do love it too. You know, those things like candle lighting, doing some amazing yoga for 30 minutes, showering, drinking green smoothies and take care of the kids and being all centered and visualized and what not.
I would love to have that flow...
But honestly I just have time twice a month to make things like this happen: my new moon and my full moon rituals. All the other days I'm really happy when I accomplish everything on my list.
Side note: Do you know, that you need 90 days to fully incorporate a new habit into your unconscious and daily rituals?
Isn't that amazing your mind can trick you so long?
3. Have a spiritual goal
Why do you do this shizzle?
Is there anything you can learn or be on this path you choose?
What is the thing that makes you interested to start that new path?
It is important to keep that in mind and to watch yourself continuously grow. Why?
Because there will be challenging times.
Sometimes you can't see the good stuff and it's hard, nasty and anxious.
With your goal in mind (and the commitment) you'll ship around those counter stones smoothly.
And, of course, a goal helps you to focus.  With your goal in mind, you hopefully do not loose your mind in a trillion things you'll find along the research of your new path.
4. Be a light-worker

Oh yay! Be a good person is so damn sexy.
Not because you get something in reward. No.
Just because you feel its good to do it.
Just because you like it.
Not to be sarcastic or being nasty as the others. Do not look judging on the other mothers clothings in the kindergarten. To help the granny neighbor carry their bags.
You do all these things because you like it.
And now, as you live a spiritual centered and committed lifestyle, you have an excuse :)
5. Even more important: be a shadow-worker

I think Kelly Ann Maddox once said:
"If you're living in your spiritual center but you're afraid to use it to help you with your emotional blockages, your worst fears or your disagreements with others, then you haven't reach spiritual empowerment – it's as simple as that."
Well… I have nothing more to add, girl!
And as a final note:
DO IT ANYWAY
Sometimes, you may fell off the bandwagon
Sometimes, there will be people who do not understand the way you live.
Sometimes, you feel confronted with anxieties, deep fears and even overwhelming love.
May be, you will be confronted with a lazy day and you feel like taking a day off is super important.
Do it.
And come back the next day.
Do not judge yourself.
Do not hate yourself. Do not use this little day off as an excuse to be harsh to yourself.
You practice love. Super important self-love.
Being kind to yourself is the first step into a spiritual centered and holistic lifestyle.
No matter what happens: Do it anyway.
Second side note:
A daily ritual can cost you six minutes a day.
Next weeks post I will write about it and you'll get an little eBook for free, just to celebrate my first planned blog post :D