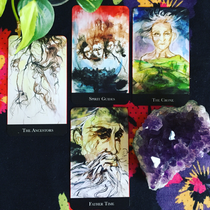 We all have a personal as well as a collective unconsciousness. But there is also a family unconsciousness, which influence us as a human being here on earth. All taboos and all the experiences our ancestors and family spirits have made, are stored in this bubble of wisdom.
This one part of what I call karma (I personally think of karma in a whole different level - I should do a post about it ;).
In this karma you'll find all the good and the bad stuff. Unfortunately its most of the time the bad stuff, traumas our family members had to deal with. 
I believe, that at some level on our life path we have to deal with this. These are things that we may never have experience personally, but which somehow someday concern us. These issues are repeated until we find a way to work and solve these things.
And it's right: one part of Ancestor work is to solve the issues they made.
But another part is to reach out for them and to ask for help. Just because they experienced so much and they are full of wisdom, they are more than happy to help us "kids" (and I hear the voice of my granny in my ear ;).
We have lost the connection to our grandparents, uncles and aunties, because they left this earthly realm and wandered to the other side. But we always talk about the spirit realm and angels and we totally forget about death family members or even friends. They are spirits too. Do you think they wouldn't be happy to help us? As well as angels do?
In our generation slowly but surely the respect of the crone wisdom comes back into mind. In times like this, where we most of the time live a life full of social networking and media, we remember the good old days, when Granny serves us self-made Apple crumple and she told us, how she grown up.
So many want to work with wisdom like this. But only a few ask them on a regular basis.
In times, when a family member is on its way to the other side, we remember them. We think about missed opportunities. We think about questions we should have asked them.
Well..., at some point it's to late to ask and to talk to them personally.
But as I said, I believe in more what I see with my physical eyes. And I began few weeks ago to integrate the help of my ancestors and the honoring of them in my daily life.
And so I ask, for example my Granny or another Spirit, what I can do in a certain situation or what she/they would do with that issues at hand. 
Mostly, I get an internal feeling what I have to do.
But in the beginning it's may be helpful to have a little tool at hand, to SEE their answers and messages.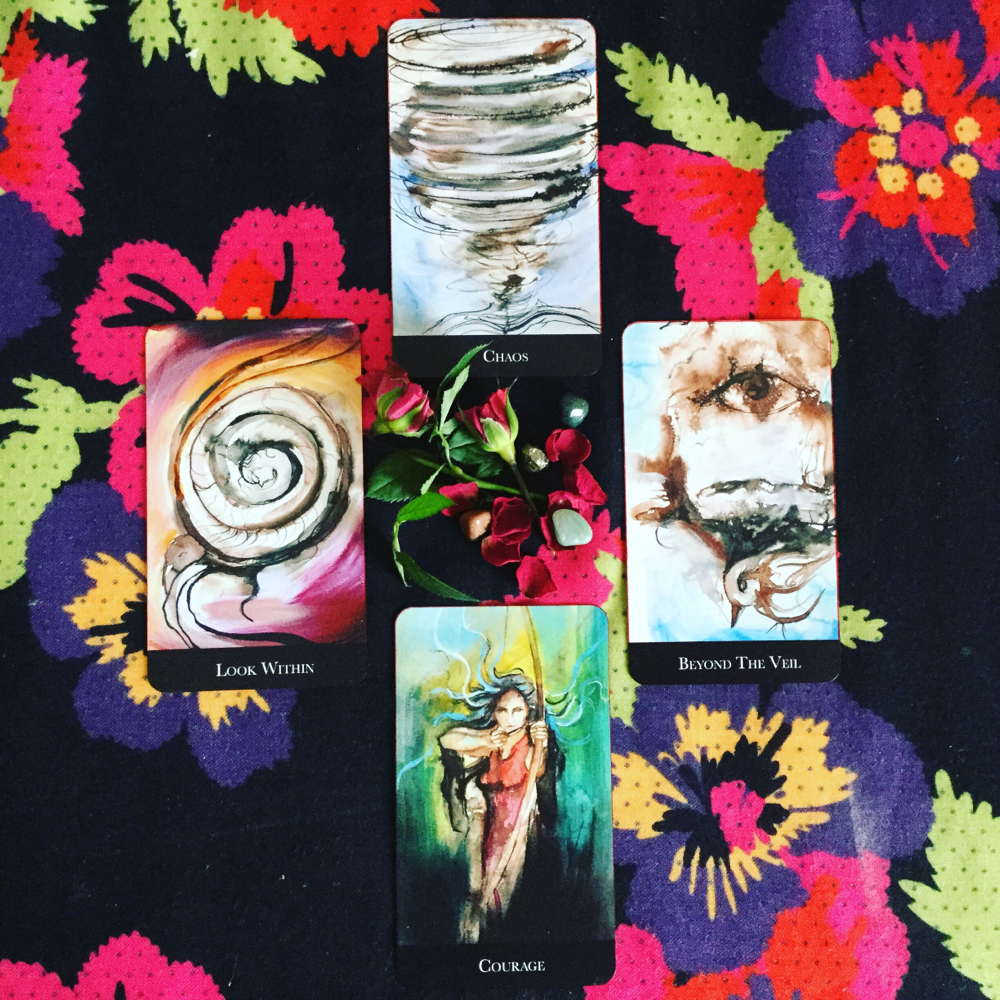 Of course my tool of choice is tarot/oracle, but in general, you can use what ever you are comfortable with.
I created a little spread, as you can see above.
With a little help of my Ancestors
a tarot spread by mytarot3
1. Who is here?
- Look within -
2. why you are the best to help me with my problem?
- Chaos -
3. What is the real problem?
- Courage -
4. How can I heal the situation?
- Beyond the Veil -
Feel free to use the spread and talk to your ancestors, spirits and guides more often.
Trust me, they loooooove to help!
Supported Deck: Oracle of Echoes by Ana Tourian, 2016
Appendix
The great-grandfather of my kids died one day after the release day of this post on July 15, 2017.
He is on the other side full of peace and without concern.
He's well now.