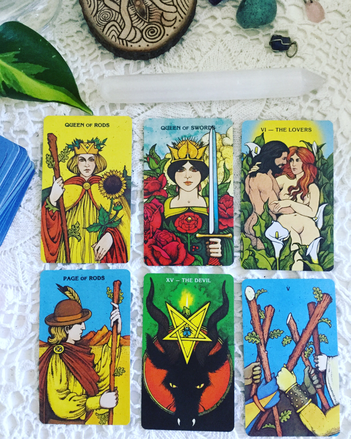 I try a beautiful tarot spread by @littleredtarot. She posted this layout on her blog back in the days of twentytwelve - but it never gets old :)
It's interesting how you change as a reader throughout time.
And I think it's necessary to take a  new approach
from time to time
of yourself.
I also think it's important to be flexible. Not only in mind, but also in person. 
So I try this spread every once in a while to see my progression over time. 
And here I am again with this goldie -
let's jump right into it:
1. About you in general: what is your most important characteristic?
Oh hello there!!! Back in February 2017 I decided (nearly by accident) to embody the Queen of Wands.
She's strong. She's fiery. She's full of passion. She's a motherly leader. She's a business queen AND a mom. And I want this too!!! And, as I see right now, I'm on the perfect track to it!

2. What strengths do you already have as a tarot reader, what are you bringing to this course*?
I love this card! She is me. She is my indicator. I'm always in awe when I see this card, because I know that I am on the right track!
I am wise and sharp. Mind over matter; that could be the maxim for her. And may be me too...
3.
What limits do you feel as you start this course*?
My love for the books. Honestly. I have to re-read every damn card I draw. Nearly every reading I have to control my message. So I train myself constantly in reading cards more and more intuitively, but this fucking control behavior is unstoppable. At least I think so...
There's a way out: the power of wholeness and self-knowledge. I can overcome that constant check up by letting go of my fear to being wrong. 
4.
What key lesson can you learn on your developmental 
journey with tarot?
I begin to assess my inner voice. A new journey begins. "I" see in future direction and realize that my journey just began. 
5. How can you be open to learning and developing on this journey?
Don't stuck with the old habits. I can achieve integration by letting go of old patterns. May be I do not please everybody or everyone. But should I do that? Hmmm.... 
Honestly: what is the goal of being a tarot reader? To please everyone or to tell the truth? Say what I see in the cards, what my intuition tells me or to hide behind the good will of others? How can I build my strength as an independent powerful woman-ly tarot reader, when I can't trust my sixth sense - fully??? It's nice to see this card here as a reminder to unstuck from the old!

6. What is the potential outcome of your tarot journey?
I sort out the unnecessary stuff. I male space, may be by an inner turmoil of some sort, but to fully express my passion and myself. That's needed for self-realization and personal growth.
I will (and can!) stand up for my beliefs. I stand up for my passion and my spiritual being that I am.
So thank you for this nice spread, Beth! It's an awesome reading for me personally this time.
If you like this spread please feel free to visit Beth's Blog and read the original post here.
The mentioned *course is the Alternative Tarot Course run and created by Beth. You can find it on her blog under www.littleredtarot.com
For the reading I used the Morgan Greer Tarot in a tin:
Published by US Games Inc 2015. Illustrated by Bill Greer under the direction of Lloyd Morgan.
It's a 78 card deck firstly published in 1979